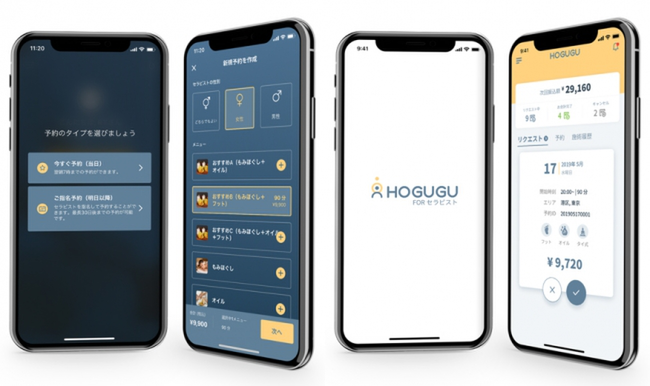 HOGUGU has initiated fundraising efforts through third-party allotments. HOGUGU is a startup underwritten by two individual investors, including Yukihiro Takenouchi, the former chairman and CEO of "Riraku," who was also the founder of the largest company in Japan's relaxation industry, "Rirakuru."
In September 2019, HOGUGU released the relaxation matching app "HOGUGU" in the Osaka area which customers can use to find outcall therapists to visit them at their home, office, or the hotel where they are staying on their business trip. A full release of this app across Japan is planned for 2020.
The purpose of this round of fundraising is to strengthen marketing efforts in order to raise public awareness of this service, reinforce the existing system to accelerate the expansion of the company's operations, as well as to hire new employees. Through these efforts, HOGUGU aims to allow its therapists to offer services that leverage on their individual personalities and create an environment in which everyone can perform their duties in their own way.
Yukihiro Takenouchi has offered the following comment, "In the course of working in the relaxation industry for many years, I have always believed that revolutionizing the way therapists work was an urgent task that the industry must undertake. I have invested in HOGUGU as President Hanaoka's bold vision of "transforming the industry" resonated deeply with me. I hope that the platform "HOGUGU" offered by the company will inject new value into the existing relaxation industry by drawing on President Hanaoka's wealth of experience in the management of outcall relaxation parlors and the industry in general.