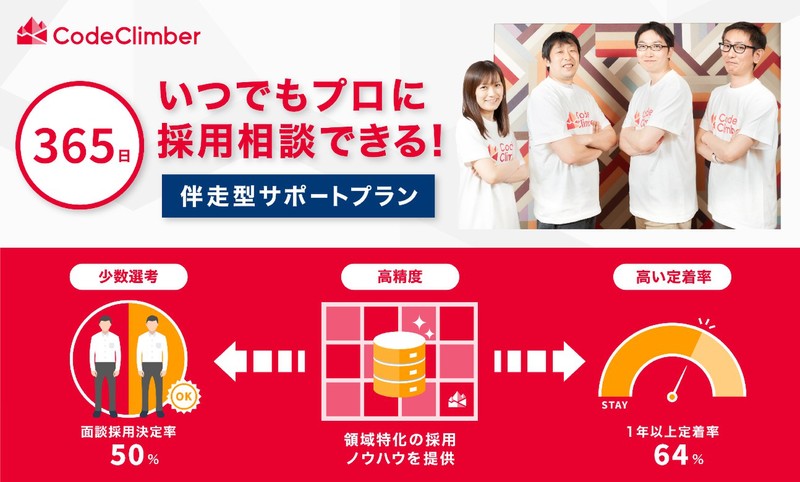 On September 16, Value Market, which deploys Code Climber, a hiring support service that specializes in freelance IT engineers for startups, released a new service to solve the startup hiring problem.
This service supports the hiring of freelance IT engineers by startups by utilizing the hiring know-how it has accumulated through Code Climber, which is also operated by the company, to offer a coaching style support plan where users "can consult with a hiring pro anytime 365 days a year." To prevent the hiring mismatches that tend to occur, the company has built a hiring evaluation database taking into consideration in which hiring processes such mismatches occur, what causes the mismatches, and how the mismatches can be prevented.
The purpose is to facilitate highly accurate hiring and minimizing the financial and time losses caused by mismatches through improving the hiring process by identifying the points of high risk from the large volume of past selection results. The Code Climber database is updated in real time to ensure the latest know-how is always provided.
The cost of the service starts at ¥200,000/month (approx. $1,897/month) not including tax. The minimum service period is 3 months. The support contents include industry customs and understanding the needs of engineers, contract risk management and corresponding methods, and optimizing the design and substantiation of the persona as well as document and interview screening. Support is also provided for eliminating the mismatch between the recruiting conditions and hiring conditions, handling post-contact onboarding, and developing retention measures.
To accelerate service expansion, the company procured funding by welcoming as a shareholder Masato Bito, who has served as a technical advisor for several startups and currently serves as the CTO of Unou and UUUM.