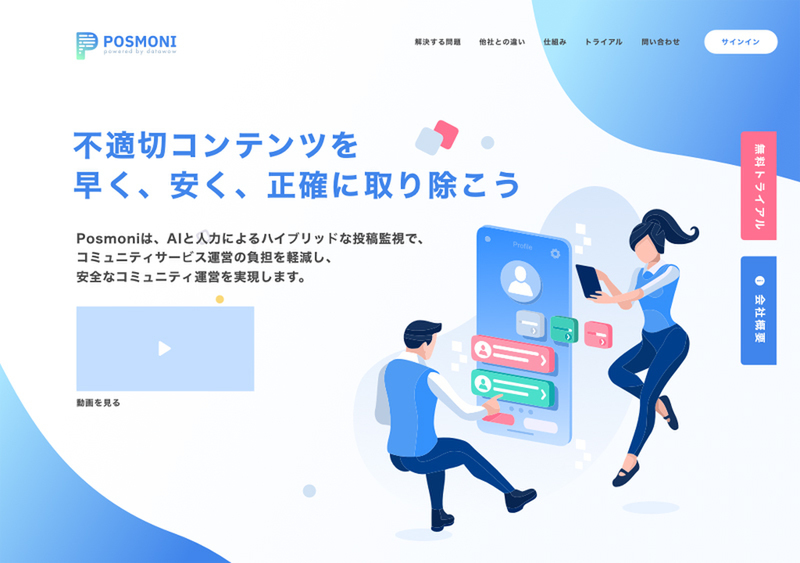 Using data from the SNS the company manages, Nanameue started to supply the monitoring solution "Posmoni" that can greatly reduce costs on May 8.
Nanameue runs Japan's largest class SNS "Yay" boasting four million postings per day. They explain that Posmoni is a content monitoring service combining crowdsourcing (BPO) and AI, making use of the expertise they gained by running Yay.
When managing SNS, it is required to monitor it 24 hours 365 days a year to control inappropriate postings and speech, but for a person to monitor all of the content would be a huge amount of work. Posmoni developed an AI filter that can judge which postings may be inappropriate using a huge amount of mother data from the company's posting content. The company states that by having all monitoring targets previously judged by the AI, the amount of content to be monitored by one person can be reduced up to one-tenth.
Normally the development of AI services needs a huge amount of data, but the company using Posmoni did not need to collect data separately and it was possible to use an AI created on the basis of the data gathered from the community service Yay that Nanameue runs. Together with the data accumulation the precision of the AI improves every day. Also, in cases of companies already making use of a monitoring system, it is possible to use the AI on it's own.
They also supply original system development solutions based on the structure of Posmoni. At Nanameue, service planning, requirement definition, data accumulation and annotation, PoC development, practical use as well as re-learning and re-planning is supported as a one-stop service making best use of their development experience so far.