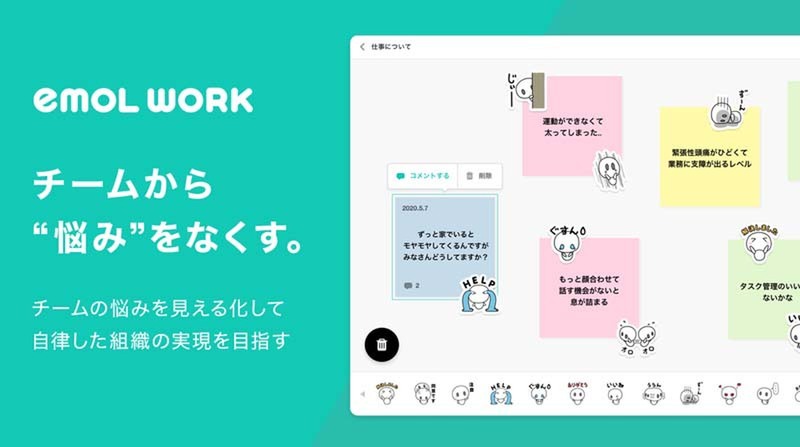 Emol released the official version of the remote office SaaS "emol work" on May 7.
emol work is a service aimed at tackling issues that are difficult for people to share with others, such as team-related concerns when engaging in remote work and the conditions of such work. In addition to tackling work-related concerns, the service allows users to freely share their worries in their private life, and is useful for encouraging communication even between team members who are physically far apart, allowing them to get to know one another better in settings such as telecommuting.
The beta-version of this service was released on December 2nd, 2019, and more than 40 companies have since implemented it on a trial basis. Although the beta-version was able to keep track of the psychological status of employees via graphics and offer psychological training, it was unable to eliminate the root causes of concerns experienced by employees. The official version has undergone significant improvements and is able to offer counseling related to the concerns of employees via methods such as cognitive therapy, cognitive behavioral therapy, and psychotherapy. These methods address individual concerns via chat interactions between AI and the person in question.
By publishing the interaction board associated with the employee's concerns created by chatting with the AI, guests users will be able to view and comment on it. They can also share it like a post-it and raise awareness of the issue by affixing stickers on it or adding marks to it with other team members. By commenting on a concern with individual advice and opinions, everyone will be able to address the concern together as a team.

Related article:
Beta version of "emol work", a mental training service geared towards corporations has been released
Japanese Mental Health Tech Display Advertising Technology Landscape 2020 version now published