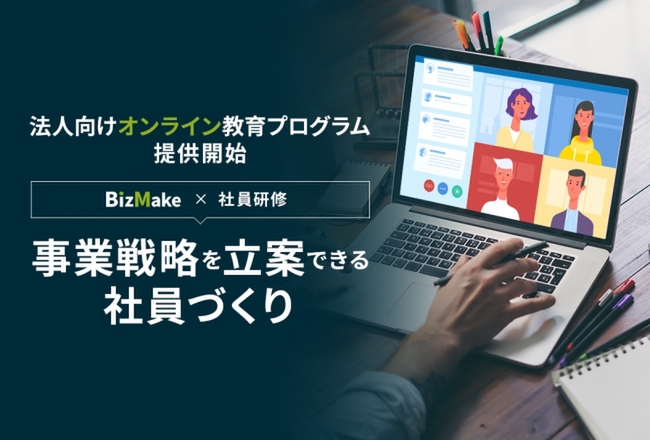 Tokyo System House announced on April 8 that it will be launching the online version of a training program that utilizes the collaboration web service "BizMake."
BizMake is a web service that is capable of utilizing frameworks to organize ideas. A framework suitable for the setting in question can be selected from a total of 18 different frameworks, including the "Business Model Canvas" which allows users to formulate their business model in an easy and accessible manner and the "Lean Canvas" which is useful in a company's startup phase.
BizMake facilitates online collaboration among members from entering information into sheets to the brainstorming of ideas. In addition to illuminating corporate issues such as "problems associated with existing businesses," the "communication costs involved," and "how to grow existing businesses," this service also aims to improve the skills of employees and provide guidance in tackling these issues.
Tokyo System House also develops and offers customized training programs (workshops) using BizMake by taking into account the specific issues confronted by individual companies. The training content of these programs focuses not only on input but output as well, and seeks to develop the knowledge of employees and nurture their independent abilities.
The online version of the training program that the company is launching will allow it to be introduced in companies located far away as well as telecommuting-based companies for which this training could not be offered previously. The online version allows users to return to the video content of previous training sessions even after the training has ended, making it possible for them to revise and acquire a deeper understanding of the material.
The cost of the training programs starts at 200,000 yen (around $1846) per day. The actual cost will vary depending on the number of users and the training content.
In addition, a free online seminar "BizMake Online Training Program Trial Session ~Molding Employees Capable of Developing Business Strategies~" will be held to allow users to experience BizMake before they subscribe to the training program.
This seminar will be held from 11:00 AM to 12:00 PM on April 15, and from 10:00 AM to 11:00 AM as well as from 3:00 PM to 4:00 PM on April 16. Applications can be submitted from the respective links.
This seminar will be conducted using Zoom. The access link will be sent to the email address of applicants by the day before the seminar.